Dr. Leo Orsino (Dr. O)
​President
Dr. Leo Orsino was appointed by the school board to serve as President of The Bilgrav School on June 27, 2023. During his nearly four decades in education, he served as a teacher, professor, counselor, consultant, coach, mentor, administrator, Headmaster, Vice President and President.
Leo earned his Ph. D. in education, counseling, psychology and human resource management from The Ohio State University in 1984. He has taught courses in education, counseling, addiction, student behavior, human development, psychology, sociology, marriage and family, leadership and human resource management.
Leo and Cyndi have been married for 43 years and live in Deerfield Beach. They have three married children and four grandchildren. They enjoy spending time with their growing family, especially their four grandchildren.
​
As a parent, grandparent and leader, Leo is passionate about educating and equipping students to succeed in all areas of their learning. He looks forward to meeting you and your children at The Bilgrav School.
Administration, Staff Board & Advisory Team Carla Huertas Del Pino
Katie Cashette
Head of School & Board Member of the International Dyslexia Association-Florida
​Katie was trained and taught at The Kildonan School in New York by Orton Academy Fellow, Diana King, before earning a Masters in Cognitive Science in Education from Columbia University-Teachers College. She was founding faculty at Joyce Bilgrav's third OG-based school, the Liberty School (CO), where she helped design the interdisciplinary curricular program for twice-exceptional students, the Film program, and the Outdoor Pursuits program. In the Bilgrav School, she is excited to coalesce these schools' most effective elements: 1) a 4-pronged approach to literacy remediation, including daily, 1:1 OG tutoring, an independent reinforcement period for lessons learned during each day's tutoring, and a Language Arts class designed specifically for dyslexic learners, 2) a teaching staff deeply knowledgeable about dyslexic learners, 3) a curriculum that is naturally S.T.E.A.M. with a focus on Arts integration, and 4) an exceptional school culture yielding kind, confident, capable students. Katie also teaches History & Language Arts for the Dyslexic Learner to Bilgrav's 5th-8th graders and tutors 1:1 each day.
Latonia Beltran
A dedicated, hard-working, and talented teacher, Latonia Beltran was trained in Orton-Gillingham by OG Fellow, Dawn Nieman. She has also been trained in Multi-Sensory Math by Marilyn Zecher. Latonia is our triple threat. She is an excellent tutor, teaches Bilgrav's Language Arts & History for the Dyslexic Learner, as well as Multi-Sensory Math. Her teaching skills "grew up" at Bilgrav. She started as an intern, learning how dyslexia presents in students of all ages and how deeply experienced tutors take unique children through the OG program. ,Within a year, she proved herself ready to teach! Her 1:1 tutoring and excellent classroom teaching reflect this strong foundation and her devotion to her students. Pam Weldon
Pam Weldon has earned two Masters degrees in Education and has a distinguished record of service to her schools and students in Westchester, NY, where she was trained in Orton-Gillingham at the Windward School. She is CERI certified as a Structured Literacy Specialist & Interventionist. She is also credentialed by the Dyslexia Training Institute in San Diego as a Dyslexia Advocate. Pam's depth of knowledge and kindness are a boon to our students.
Michelle Perez
Michelle Perez has a Bachelors of International Relations from Florida International University. After college, she volunteered with AmeriCorps as a Reading Interventionist at a low income school. There, she found her passion for teaching reading and became trained in Lindamood-Bell. She received initial training in pure Orton-Gillingham by Orton Fellow, Laurie Leason, and then received intensive training under Fellow, Susie VanderVorst, at her summer program in NC, Camp Spring Creek. In addition, Michelle is earning her certificate in Dyslexic Education through the University of Florida.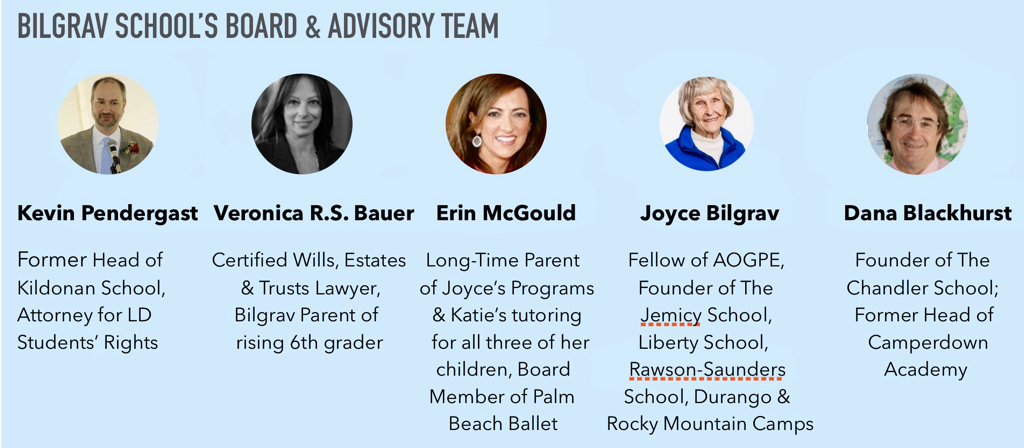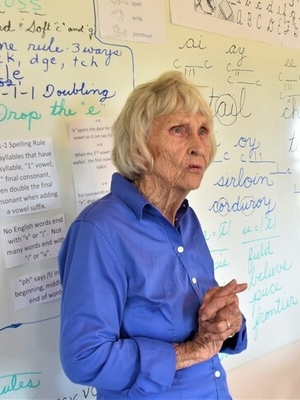 Joyce Bilgrav
Fellow of the Orton Academy & Found of Bilgrav School
​In the 1950's, Joyce enjoyed life as a mother and housewife. However, three of her four children struggled to learn to read in school. Unwilling to accept that they were "slow," Joyce researched on her own (without the internet!) and discovered dyslexia. She became trained in the multi-sensory, phonics-based, explicit, diagnostic/prescriptive, individualized, cumulative approach to teaching reading called Orton-Gillingham a program designed by Drs. Orton & Gillingham to teach a dyslexic child to read. She taught her children herself and after years of study became a "Fellow" of the Orton Academy. In the early 1970's, she began starting Orton-Gillingham based schools and summer camps that have allowed thousands of dyslexic learners to achieve their potential.

​Joyce is also the Founder of these fine school:
Jemicy School & Camp Glencoe (Baltimore, MD)
Rawson-Saunders School (Austin, TX)
Liberty School & Durango Mountain Camp (Durango, CO)
Rocky Mountain Camp (Evergreen, CO)
Wolf Creek Camp (Fredericksburg, TX)
"I am privileged to have spent over ten years being mentored by Joyce. She is an inspirational teacher and a pioneer in the US in dyslexic education. We are honored to name the school after her."
~ Katie Cashette, Head of School